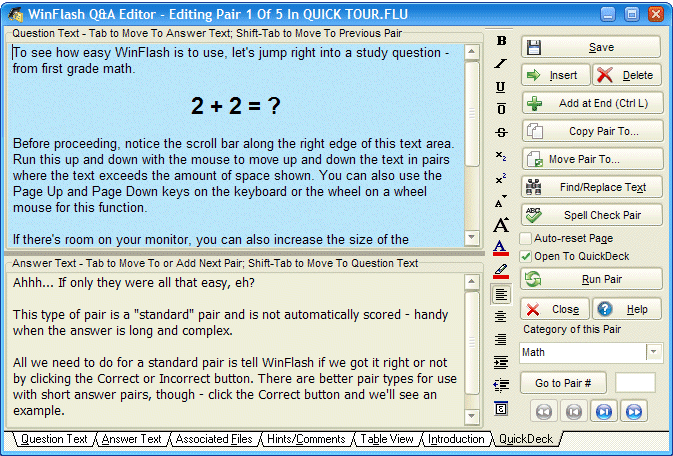 This tabbed dialog allows the user to create or edit pairs within the currently-open .FLS file. The QuickDeck page is shown above. As the name implies, this tab allows you to enter text-only decks VERY quickly. Simply Tab between the Question and Answer dialogs and, when the answer is completed, hit Tab again to bring up a new, blank, card. The editor supports all standard Windows commands - e.g. Ctrl-C for copy, Ctrl-V for paste, etc.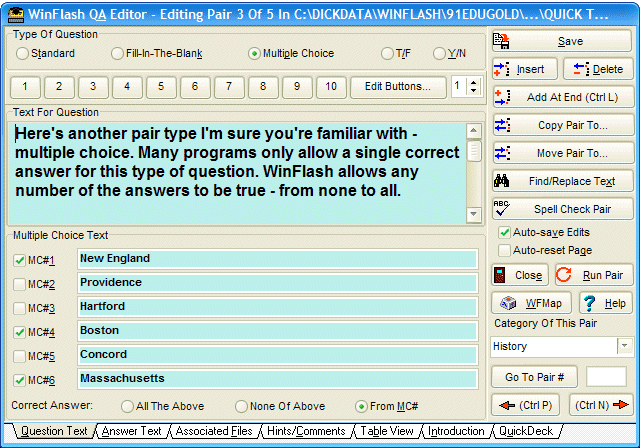 For more advanced editing, individual tabs are supplied for the Question and Answer - the Question tab is shown above. These two tabs control the entry of Multiple Choice and Fill-In-The-Blank pairs. Note WinFlash's exclusive Glossary Buttons. These 10 buttons can each be assigned to ANY character or character string (up to 300 characters) contained in the selected font. This is of great help in studying foreign languages which require accented characters that are not normally accessible from the keyboard. There are 9 independent sets of button codes, allowing for 90 character strings to be programmed for BOTH Q's and A's. (Not available in WinFlash Basic).
Another tab allows access to the Associated Files page for entering multimedia or graphics files associated with the Q and/or A as well as invoking Educator's .RTF editor which can create or edit a full-featured .RTF file associated with any Q or A, allowing the inclusion of the full Unicode font set as well as font colors, underlining, graphics, etc.

The Hints/Comments page allows entry of any desired Hints (for the Question dialog) and/or Comments (for the Answer dialog).
The Introduction page allows the creation/editing of a .RTF introduction for the study deck with the same .RTF features as discussed in the Associated Files page. (.RTF creation capabilities available in Educator only).
Top-level editor controls are contained in the panel on the right. The WFMap button allows direct access to the WinFlash Map applet (a significant improvement on Charmap) making it easy to insert "special characters" not available on the keyboard and the Spell Check Pair invokes a powerful, customizable spell checker (not available in WinFlash Basic) with foreign language support.
Shown below is the handy Table View panel which allows a quick overview of the deck with color-coded indicators for pair type and the presence of support files (A/F) and Hints or Comments (H/C). When Auto-reset Page is selected, double-clicking in the Question or Answer column takes you to the Question panel of that pair. Available in Scholar and Educator only.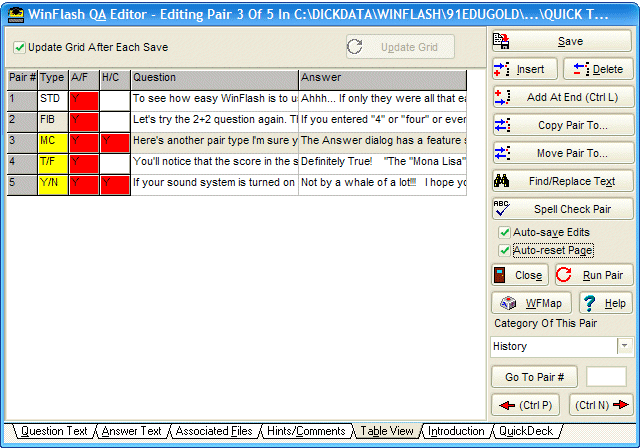 Copyright © 1996-2018 Open Window Software
All Rights Reserved