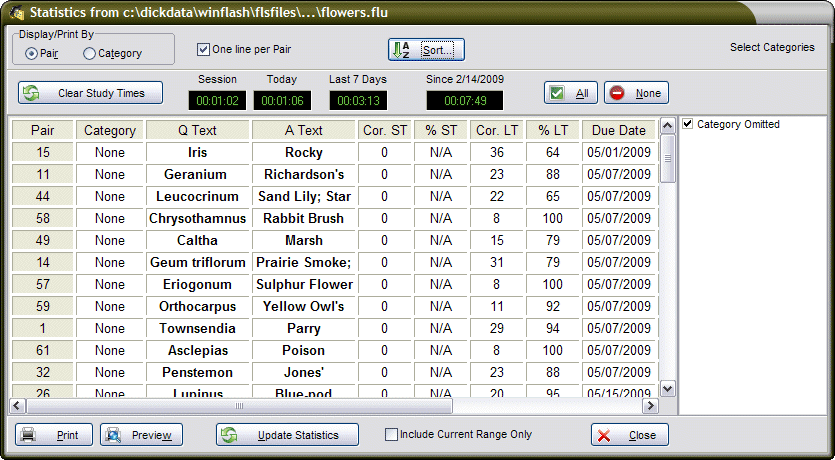 Educator has the ability to display and print detailed statistics about the current user's results with the currently open .FLS deck.  These statistics are displayed in the dialog shown above and are accessed through the File|File Statistics selection on the File Menu.  Advanced Statistics are then selected by clicking on the Advanced... button.
The information displayed is dependent on the current study mode for the deck.  For example, if the deck is in History mode, the unlearned, short-term learned or long-term learned status of each pair can be viewed.  Similarly, if the deck is in Leitner mode, the due date and current Leitner box of each pair is displayed.

Display/Print By

Selecting Pair displays the statistics for each pair in numerical order. Selecting Category displays the summary statistics for each category, arranged alphabetically by category.

Select Categories

All categories in the current deck are displayed along with a Category Omitted classification.  Only the categories that are checked are included in the display or printout.

Print

Prints out a report of the currently displayed information.
Close

Returns to the File Statistics dialog.

Include Current Range Only

Limits the statistics display to the deck's currently selected range - set in Options|Pair Order & Size|Range

All

Selects all of the categories

None

Selects none of the categories

Copyright © 1996-2018 Open Window Software
All Rights Reserved